How to list your car at SCRUT Listing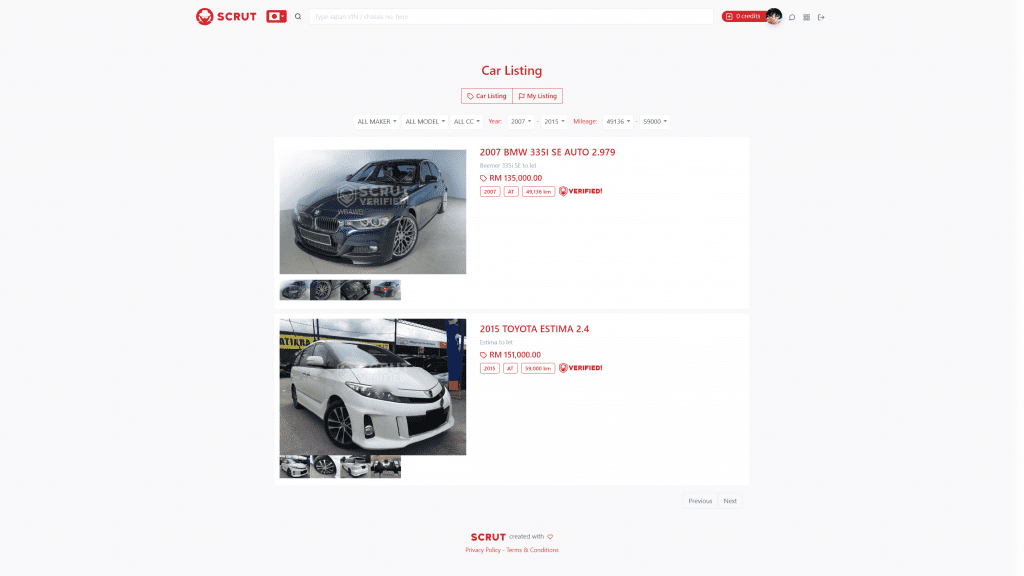 SCRUT has created a new feature – SCRUT Listing, which is specially made for honest sellers and buyers who couldn't be bothered to scrut first.
To list your car, there are few requirements as below:
Only imported car from Japan & UK and inspected car using SCRUT Integrity Inspection (SII) are allowed to be listed
User (sellers) must already have the car report or inspection sheet in their account
For Japanese cars, overall rating must be 3 and above
For UK cars, it must not be stolen before or have any financial problem
For SII cars, overall grade must be A, B and C
At the moment, the service is for free; sellers do not need any credits to list
Follow the steps below to create your first Ad.
Log in to your registered account or register a new account with us.
Buy report for your car if you haven't.
On the dashboard, click SCRUT Listing.
Click on My Listing.
Click on New Listing.
Select chassis no from the list. Click on Next.
Fill in the details for your Ad. The form is already pre-filled with the details from the car report. Make sure you update the latest mileage. Click on Proceed.
Drag and drop photos or browse to upload photos. You can upload up to 15 photos (max. 15MB per photo) and only first five photos will be displayed at SCRUT Listing main page. Click on Submit.  
Preview your Ad details. Once published, you are not allowed to change. Otherwise you need to resubmit again for review.  
Click on Request Publish Listing.
Your Ad will be reviewed and once approved it will be published at the SCRUT Listing main page.